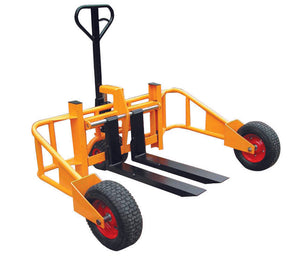 All Terrain Pallet Truck
ALL-T-2-B
Regular price $2,180.00 Sale
This lightweight yet strong tubular frame handles evenly distributed loads up to 2,000 lbs. (2,000 lb. at 12" and 1,500 lb. at 15"). Designed to travel over rough ground where no ordinary pallet truck can go. Use at construction sites, gravel pits and nurseries. Features large 17" front pneumatic tires and 10" steering wheels. Individual fork width is 4". Easy to operate with three position handle, UP, DOWN and NEUTRAL.
The All Terrain Pallet Truck comes complete with:
Large wheels reduce moving effort
Inside straddle is 50"
Outside straddle is 64"
Pneumatic tires have sealed bearings for outside durability
Adjustable Fork Width: 9.5" to 26"
Overall size: 64"W x 50" L x 51"H
Net Weight: 320 lbs.